Ganesh Chaturthi 2018 Date & Time: Puja Muhurat, Vrat Vidhi, Fasting and Ganpati Visarjan information
Ganesh Chaturthi is a ten-day festival celebrated by Hindus. It marks the birth of Lord Ganesha and is also known as 'Vinayaka Chavithi'. He is worshiped as the God of wisdom, prosperity and good fortune. This year, the auspicious occasion is falling in the month of September and will be celebrated from 13 to 23.
Puja Muharat for 10 days:

13 September
Afternoon- 1:30 pm to 3:21 pm
Evening- 4:53 to 9:21 pm
14 September
Morning- 3:13 to 6:09 am
Afternoon- 12:16 to 1:48pm
Evening- 4:52 to 6:24pm
15 September
Morning- 7:41 am to 9:13 am
Afternoon- 12:16 pm to 4:51 pm
Evening- 6:23 pm to 7:51 pm
Night- 9:19 pm to 1:45 am (September 16)
16 September
Morning- 4:42 am to 6:10 am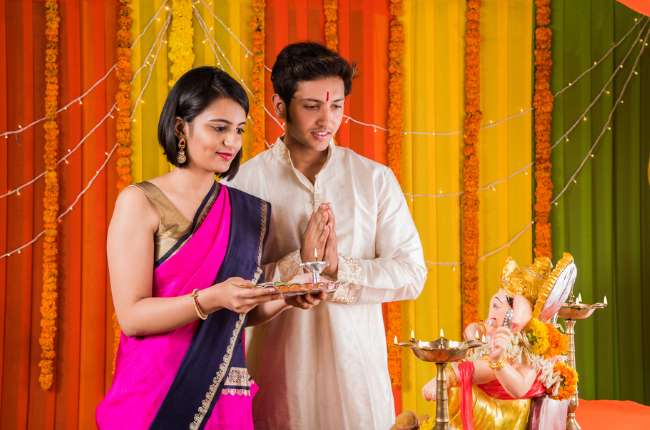 17 September
Morning- 6:11 am to 7:42 am and 9:13 am to 10:44 am
Afternoon- 1:47 pm to 7:49 pm
Night- 10:47 pm to 0:16 am
18 September
Morning – 1:45 am to 6:11 am
19 September
Morning- 6:12 am to 9:13 am and 10:44 am to 12:15 pm
Afternoon- 3:16 pm to 6:18 pm
Night- 7:47 pm to 0:15 am
20 September
Morning- 3:14 am to 4:43 am
23 September
Morning- 7:43 am to 12:13 pm
Afternoon- 1:43 pm to 3:13 pm
Evening- 6:13 pm to 10:43 pm
Ganesh Visarjan
For all the days, Lord Ganesha is worshiped by indulging in Ganpati pooja, songs and aarti in the evening. Devotees bring home idols of Ganesha and worship him on all the days. On the last day of the festival, which is known as Ganesh Visarjan, the idol is taken for immersion in a river or sea.
Fasting
The devotees who fast on this 10-day festival get up early in the morning for a bath. After wearing fresh clothes, they worship the idol with aartis and mantras and offer sweets to Lord Ganesha to seek his blessings.
The devotees can opt for nirajal vrat (waterless fast) or the phalahar vrat. Apart from fruits, sabudana khichdi, curd and rice, the devotees can eat sweets including ladoo, gajak and rewari. The followers strictly prohibit from consuming non-vegetarian food and alcohol.
Source:- timesofindia
Share: